And that's just it- these guys started out as true "Dock Signs".
Living on the coast and especially on the waterfront makes for a hard life on decorative parts and pieces. I mean, it's a hard fact HVAC systems here, as an example, must be replaced every five to seven years due 'not' to functional failure but instead due to corrosion. Salt water and sun is hard on everything. Even the docks themselves have to be carefully maintained if they're to last… Nobody wants 'just another' thing out there to perish.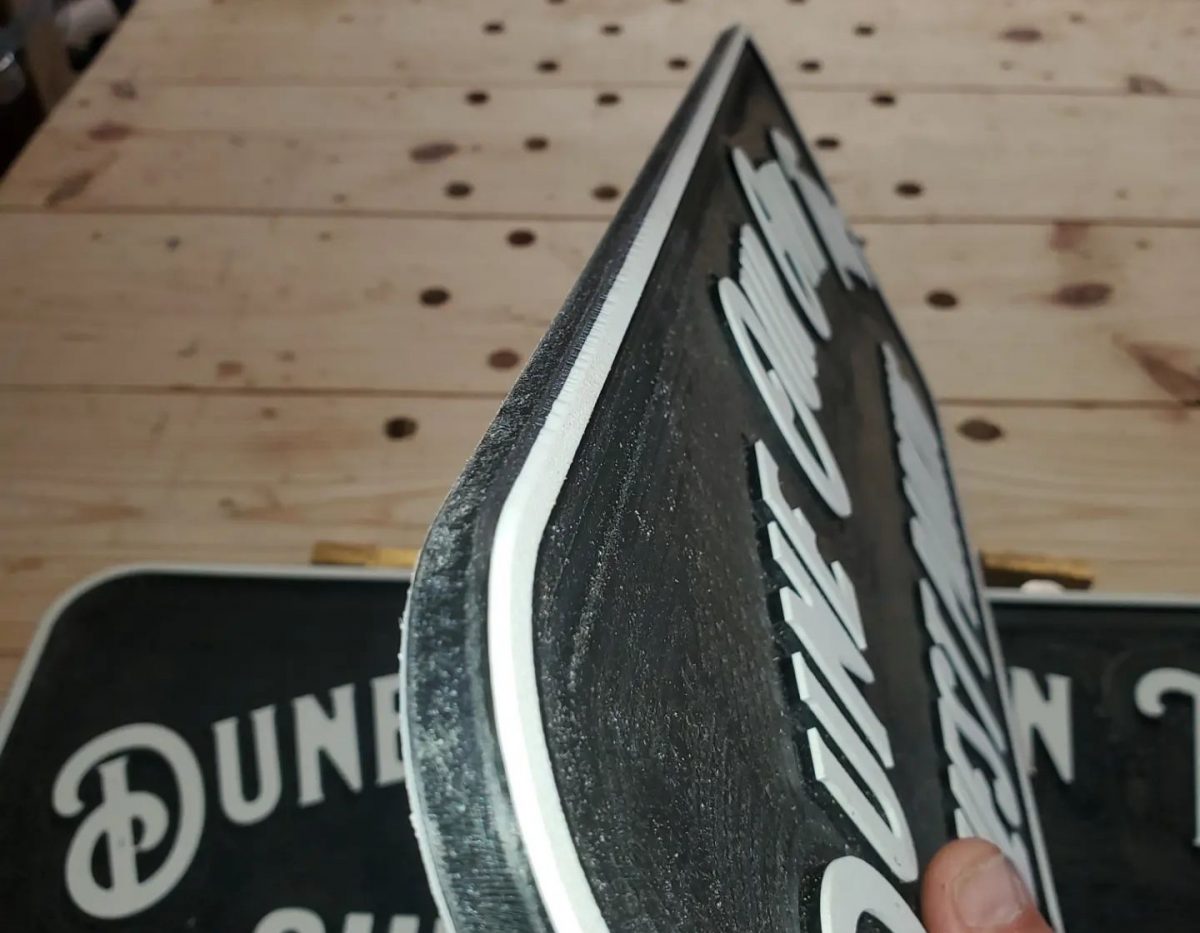 Enter our "Dock Signs".
HDPE is that plastic stuff professional cutting boards are made from. It's also the product boat builders use to build the stringers and runners for boats, nowadays. It's virtually indestructible. It WILL cut, and it will break- but the forces required for that to happen? A person would just about have to focus effort on it and do it on purpose. Even better, most HDPE you're going to encounter served life somewhere else before being captured and used in that capacity- think "water bottles" or "milk jugs" or even packaging. All that plastic is re-used and jazzed up with other compounds to give us what this material is- and it's absolutely fantastic for a bunch of different uses. For my use? Signs. Man, it makes fantastic signs!
The manufacturer of this product was keenly aware of it's uses as a sign. The 'problem' with it in that capacity? Paint, glue, vinyl, or any thing else under the sun will NOT stick to it- yup, the stuff is slick, literally, and nothing will adhere nor bond to it as it will other material. It 'can' be welded with other HDPE and using a process- making solid pieces (boat builders know this well), but as for paint? Color? Customization? … nope.
This was solved to a large degree by introducing welds and layers of differing color and 'welding' them together. Enter: King Color Core- a product which is solid HDPE yet consists of two colors- one sandwiching the other. NOW we have a product we can use, y'all!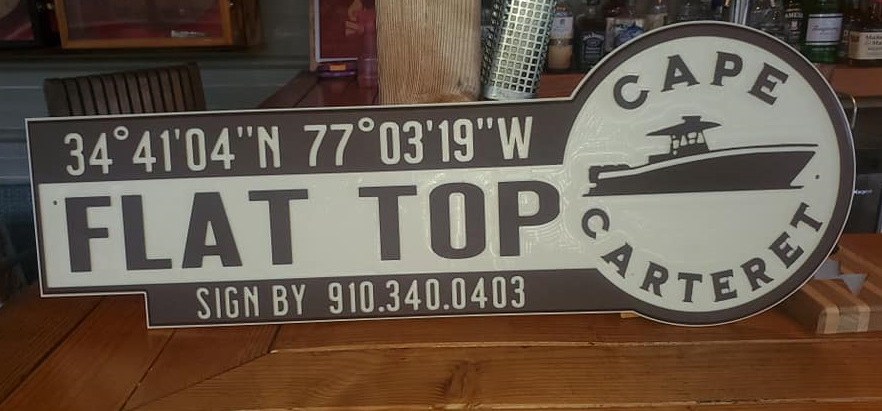 King Color Core is a tremendously suitable product for signs in harsh environments. It won't fade, rot, crack, and it certainly isn't easy to break. It is fairly simple to machine and can 'hold' some fairly intricate design . Best of all? It isn't going anywhere anytime soon. Where other materials are offered by the manufacturer to last up to ten years before inspection and servicing, King Color Core is warrantied for 450 years. I'll say that again: King Color Core is guaranteed to last for 450 years. We're talking a permeant solution, guys. I mean, we're talking archeologist will find my customers relics in another 30k years and at least extract the name of their boats and where they thought they lived…. (bad attempt at humor)…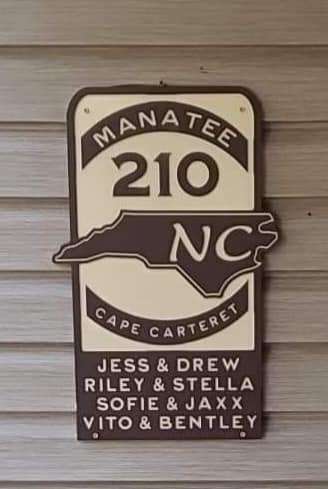 So since I've went on about what's 'good' about this product, and where it got it's 'family name' of 'dock signs' from, let me speak of the negative aspects of it.
Fortunately, they're few.
First and foremost, the material is expensive. We're talking $800 for a plain half inch thick 4'x8′ panel for retail prices. Secondly, it's not light- it has some weight to it so it must be secured to a stout base.
and…. that's it. That's the negatives.
The uses can be commercial, and yes I've used it in commercial signage to great success with very happy customers. It serves best, though, for uses that are challenging for other materials and for uses that won't see a lot of maintenance. What I mean by that, is imagine placing a sign on a fence on the back acreage of a ranch where few ever wander… It still would need to be posted, but it's not like it or the area sees a lot of maintenance. These would work great there- tack them up and it'll outlast the fence by a far margin. Obviously, they work great on anything nautical or shoreline as the name implies.
Anyway, here are a few pics to gander upon if some of the signs I've made with the product, I do absolutely one-off custom work and/or I can do them in numbers. If you have any interest in having one let me know!
Oh, and I should add- these guys can be carved on both sides or just the one- machine time increases cost but sometimes that is all that will work for the purpose intended. Also, as in one of the pics below- acrylic can be introduced as well- and IT CAN be painted- the limitation is it must be mechanically fastened to the King Color Core in order to last, and… the acrylic doesn't have near the life expectancy of the King Color Core.
Dock Signs
Dock signs by DWC- the originals and the best! Made of recycled two color HDPE, these things will not rot, rust, crack, fade, and they certainly won't break easily… and when I say easy, I mean— pack a lunch and bring a bulldozer or wood chipper.